It's time to get away from the hustle and bustle of life and have an experience that is both exhilarating and relaxing, while also being refreshing and rewarding. If you have yet to enjoy the stunning beauty of the Ucluelet while reeling in fresh chinook, coho, and halibut, what are you waiting for? Fishing out here is unlike any other thrill. We invite you along for the adventure of a lifetime – no experience needed!
Your Ucluelet fishing escape starts when you arrive on the edge of the Pacific Ocean, with an enduring coastline that has supported people and wildlife for centuries.
Hop aboard the clean and comfortable Kootenay Kingfisher boat for salmon and halibut fishing. It's a 25' Hourston Glascraft with a full cabin, 300 hp outboard motor and a 9.9 hp kicker motor. With an on-board bathroom and room for all the rods, bait, and gear (that are included in your trip) it's the perfect size for you and up to three other guests (maximum 4 fishermen per trip). The fish you catch are stored on board in roomy ice coolers so they remain fresh until they can be processed at the end of the day by Ukee Seafood and Fish Pak. We highly recommend this experienced company to all of our clients for complimentary processing of the day's catch.
Naturally you are wondering about the salmon fishing and halibut fishing yield in Ucluelet. Rest assured, your guides know the hottest spots where huge schools of fish are feeding on plankton, which naturally draws salmon and halibut to the area. Not to mention we'll be fishing along a migration route, making it even easier to pull in fish that average in size from 7-40 pounds. When the time is right, we can also hit the protected Barkley Sound waters where massive chinook start their journey homeward to spawn.
The trip, however, gives you so much more than pulling in a trophy catch. You'll enjoy some of the best scenery on the coast and have a chance to see whales, sea lions, eagles and ospreys. By the time you get off the boat, have your fish processed, and head back to your accommodations, you'll be ready to relax with even more wildlife grazing just past your deck as your day closes with a spectacular sunset.
When it comes to salmon fishing and halibut fishing in Ucluelet, you are in good hands. We have 15 years experience between us and love sharing our passion for fishing with guests from all over the world.
Kurt was born and raised in Merritt. BC.  He started fishing at a very young age, fishing many lakes and river in British Columbia. Kurt has always had a passion for fishing and teaching others, never worried about giving away trade secrets – he supported the fishing community.
Kurt had been fishing with Kootenay Kingfisher for the past few years and was able to fulfill his dream of owning his own boat – by purchasing the company.  He gained a lot of knowledge from the previous captain Bradd Stubbs that he has carried forward into running the business.
Kurt is an avid fisherman and prides himself with the ability to ¨Put fish in the boat.¨ He has extensive knowledge of the Ucluelet area and keeps up to date with daily fishing reports.
Each client has different expectations and Kurt will customize each trip to make it the most memorable for each and everyone.  Kurt looks forward to meeting each and everyone.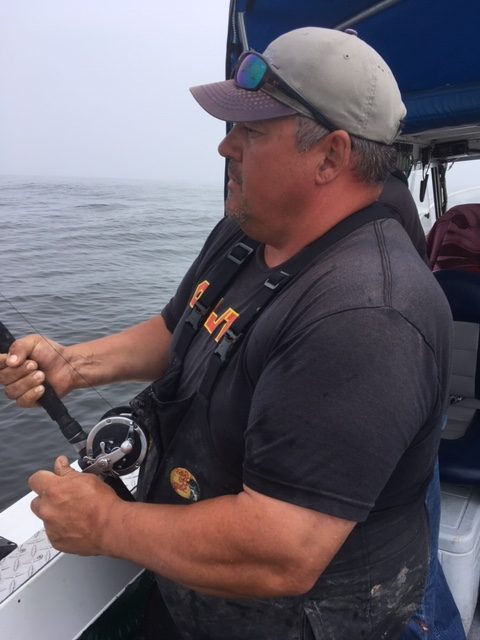 Cindy was born and raised in Strathmore Alberta.  She had never held a fishing poll until she met Kurt 12 years ago.  It didn't take long for him to get her completely 'hooked'. When the opportunity arose, they purchased Kootenay Kingfisher to live out their dream of owning a business, and couldn't have been more excited. While Kurt looks after the boat and clients, Cindy manage the financial and administration end of it.  Cindy enjoys spending time in Ucluelet when She's not home looking after their little hobby farm.